Rep. Virginia Foxx
and health care reform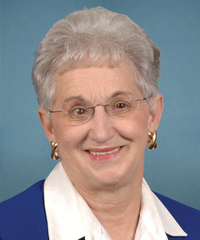 Local Offices
Share how Rep. Foxx votes:
Rep. Virginia Foxx: key health care votes
---
04/18/2011 4:04 PM --
The good news is that Ryan's plan doesn't appear likely to become law. The Democratic-controlled Senate and President Obama stand in its way. But the vote itself provides a stark ...
Virginia Foxx: our children and our grandchildren. and i love the way my colleagues talk about this prescription drug program that was passed under a republica president and republican congress that was not, quote, paidor. they hate it. and yet what are they going to do in their health care bill? they are going to close the doughnut hole.
About Rep. Virginia Foxx
Current Office:
Representative from
North Carolina
Name:
Virginia Foxx
Date Elected:
11/2/2004
District:
NC_05
Party:
Republican
Background Information:
Gender: Female
Birth Date: 6/29/1943
Birth Place: Bronx, NY
Spouse: Husband, Tom
Children: 1
Grand Children: 2

Education:
EdD, University of North Carolina
MA, University of North Carolina
BA, University of North Carolina
Professional Experience:
Business Owner
School administrator
Teacher
Political Experience:
North Carolina Senate
Watauga County Board of Education
Committees:
Committee on Education and the Workforce
Subcommittee on Early Childhood, Elementary and Secondary Education
Subcommittee on Higher Education and Workforce Training (Chair)
Committee on Rules
Subcommittee on the Legislative and Budget Process
See how North Carolina members of Congress voted on health reform:
North Carolina Senators
North Carolina Representatives