Rep. Lynn Westmoreland
and health care reform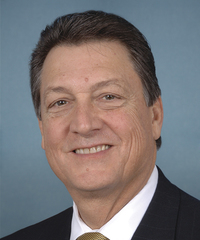 Local Office
Rep. Lynn Westmoreland
Suite 3
1601-B East Highway 34
Newnan, GA 30265
Phone: 770-683-2033
Fax: 770-683-2042

Share how Rep. Westmoreland votes:
Rep. Lynn Westmoreland: key health care votes
---
04/18/2011 4:04 PM --
The good news is that Ryan's plan doesn't appear likely to become law. The Democratic-controlled Senate and President Obama stand in its way. But the vote itself provides a stark ...
Lynn A. Westmoreland: i thank my friend from texas for taking this oportunity. this is the last special order that wil be before we have the vote, the historic vote on the government takeover of health care. and so i think it's important that we undstand that we're talking on behalf of the american people.
About Rep. Lynn Westmoreland
Current Office:
Representative from
Georgia
Name:
Lynn Westmoreland
Date Elected:
11/2/2004
District:
GA_03
Party:
Republican
Background Information:
Gender: Male
Birth Date: 4/2/1950
Birth Place: Atlanta
Religion: Southcrest Church
Spouse: Wife, Joan
Children: 3
Grand Children: 7

Education:
Professional Experience:
Construction, land development
Organizational Memberships:
Christian City Advisory Board
The Stakeholder's Advisory Committee for Kennesaw State University
Midwest Georgia Homebuilder's Association
Political Experience:
Georgia House of Representatives
Committees:
Committee on Financial Services
Subcommittee on Financial Institutions and Consumer Credit
Subcommittee on Housing and Insurance
Subcommittee on Capital Markets and Government Sponsored Enterprises
Permanent Select Committee on Intelligence
Subcommittee on Oversight (Chairman)
See how Georgia members of Congress voted on health reform:
Georgia Senators
Georgia Representatives