Rep. John Lewis
and health care reform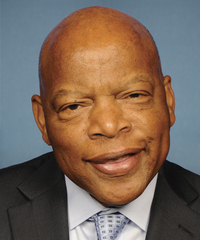 Local Office
Rep. John Lewis
The Equitable Building
Suite 1920
100 Peachtree Street NW
Atlanta, GA 30303
Phone: 404-659-0116
Fax: 404-331-0947

Share how Rep. Lewis votes:
Rep. John Lewis: key health care votes
John Lewis: to start over. there are those who have told us to wait and told us to be patient. we cannot wait. we cannot be patient. the american people ned health care and they ned it now. on this day, at this hour, stand withthe american people and not with the big insurance companies.
About Rep. John Lewis
Current Office:
Representative from
Georgia
Name:
John Lewis
Date Elected:
11/4/1986
District:
GA_05
Party:
Democrat
Background Information:
Gender: Male
Birth Date: 2/21/1940
Birth Place: Pike County, AL
Religion: Baptist
Spouse: Wife, Lillian Miles
Children: 1

Education:
Professional Experience:
Public official
Community affairs director, National Consumer Cooperative Bank
Organizational Memberships:
Martin Luther King Center for Social Change, African American Institute
Robert F. Kennedy Memorial
Political Experience:
Committees:
Committee on Ways and Means
Subcommittee on Human Resources
Subcommittee on Oversight (Ranking Member)
See how Georgia members of Congress voted on health reform:
Georgia Senators
Georgia Representatives