Sen. John Isakson
and health care reform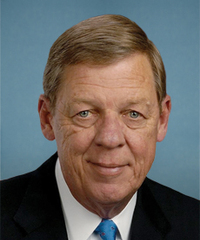 Local Office
Sen. Johnny Isakson
One Overton Park
Suite 970
3625 Cumberland Boulevard
Atlanta, GA 30339
Phone: 770-661-0999
Fax: 770-661-0768

Share how Sen. Isakson votes:
Sen. John Isakson: key health care votes
Status: Senate motion rejected 47-51, 2 not voting (3/5 required)

Repeal of the Affordable Care Act of 2010 [more]

Sen. Isakson voted Yes, which we score as unfavorable.
---
04/18/2011 4:04 PM --
The good news is that Ryan's plan doesn't appear likely to become law. The Democratic-controlled Senate and President Obama stand in its way. But the vote itself provides a stark ...