Sen. John Isakson
and health care reform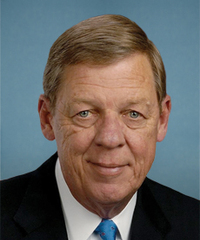 Local Office
Sen. Johnny Isakson
One Overton Park
Suite 970
3625 Cumberland Boulevard
Atlanta, GA 30339
Phone: 770-661-0999
Fax: 770-661-0768

Share how Sen. Isakson votes:
Sen. John Isakson: key health care votes
Status: Senate motion rejected 47-51, 2 not voting (3/5 required)

Repeal of the Affordable Care Act of 2010 [more]

Sen. Isakson voted Yes, which we score as unfavorable.
Status: Senate bill passed 56-43, 1 not voting

These were House amendments to the Patient Protection and Affordable Care Act, making financing and revenue changes. It made some adjustments to the health reform bill to mollify House Democrats who had sought a more aggressive reform bill [more]
Sen. Isakson did not vote.
---
04/18/2011 4:04 PM --
The good news is that Ryan's plan doesn't appear likely to become law. The Democratic-controlled Senate and President Obama stand in its way. But the vote itself provides a stark ...