Rep. John Gingrey
and health care reform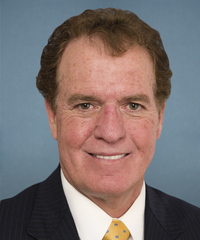 Local Offices
Share how Rep. Gingrey votes:
Rep. John Gingrey: key health care votes
---
04/18/2011 4:04 PM --
The good news is that Ryan's plan doesn't appear likely to become law. The Democratic-controlled Senate and President Obama stand in its way. But the vote itself provides a stark ...
Phil Gingrey: public option, and as dr. roe just pointed out, madam speaker, now it's a complete government takeover, the student loan industry and i think it's instructive as i said at the outset of the hour of what the intention is in regard to the health care system.
About Rep. John Gingrey
Current Office:
Representative from
Georgia
Name:
Phil Gingrey
Date Elected:
11/5/2002
District:
GA_11
Party:
Republican
Background Information:
Nick Name: Phil
Gender: Male
Birth Date: 7/10/1942
Birth Place: Augusta
Religion: Catholic
Spouse: Wife, Billie
Children: 4
Grand Children: 13

Education:
MD, Medical College of Georgia
BS, Georgia Tech
Professional Experience:
Organizational Memberships:
Cobb County Medical Society
Medical Association of Georgia
American Medical Association
Georgia OB-GYN Society
Political Experience:
Georgia Senate
Marietta School Board
Committees:
Committee on Energy and Commerce
Subcommittee on Environment and Economy
Subcommittee on Health
Subcommittee on Oversight and Investigations
Committee on House Administration
See how Georgia members of Congress voted on health reform:
Georgia Senators
Georgia Representatives