Rep. Rob Bishop
and health care reform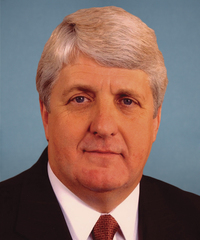 Local Office
Rep. Rob Bishop
Federal Building
Suite 1017
324 25th Street
Ogden, UT 84401
Phone: 801-625-0107
Fax: 801-625-0124

Share how Rep. Bishop votes:
Rep. Rob Bishop: key health care votes
---
04/18/2011 4:04 PM --
The good news is that Ryan's plan doesn't appear likely to become law. The Democratic-controlled Senate and President Obama stand in its way. But the vote itself provides a stark ...
Rob Bishop: and democratic leaders to slip this past the american people make all of lucy ricardo's schemes to be a part of ricky's show look like clear and logical plans of action. this also would be a comedy if it wasn't such a tragedy for the american people. madam speaker, my state has already instituted real health care solutions that deal with our demographics and give people options in the state of utah.
About Rep. Rob Bishop
Current Office:
Representative from
Utah
Name:
Rob Bishop
Date Elected:
11/5/2002
District:
UT_01
Party:
Republican
Background Information:
Gender: Male
Birth Date: 7/13/1951
Birth Place: Kaysville, UT
Religion: Church of Jesus Christ of Latt
Spouse: Wife, Jeralynn Hansen
Children: 5

Education:
Professional Experience:
Political Experience:
Utah House of Representatives
Committees:
Committee on Armed Services
Subcommittee on Tactical Air and Land Forces
Subcommittee on Readiness
Committee on Natural Resources
Subcommittee on Energy and Mineral Resources
Subcommittee on Public Lands and Environmental Regulation (Chairman)
Committee on Rules
Subcommittee on Rules and Organization of the House
See how Utah members of Congress voted on health reform:
Utah Senators
Utah Representatives